So... those of you who don't frequent my house, or our Wednesday night playdate dinners, or our Saturday morning gymnastics class probably don't know that I had been struggling with the decision to better utilize our dining room space. We have a table that seats 6 in our breakfast room, and I don't really do fancy dinners (I can hear you snickering -- SHUT IT!), so our dining room was pretty much only used as the designated time out space for a certain 6-year old I know. It was also the room I could walk through and AHHHHH at my lighted china cabinet each night, so I knew that whatever I did, I wanted to hang on to that element of a dining room.
I was fortunate enough to have a spare bedroom that my very patient other half let me have to myself to use as a sewing room. I've found over the years, though, that I'm not prone to ditching the family for several hours at a time to go upstairs to work on my projects.
Are you seeing where this is going?
I decided to reclaim our dining room space and move my crafty stuff into it! It's downstairs, where our family hangs out. It's easy (-ish) for me to pop in, hoop something up on the embroidery machine, and walk back in to finish watching iCarly with the munchkin. And I have done that. Several times in the last few weeks. Spencer and Sam are pretty funny, OK?
I had our china cabinet moved into our living room before my craft stuff invaded. I know Martha would beat me down over this arrangement, but it works for us. I think that lesson is SO important for people to take away -- your house is YOURS. You need to make it work for YOU and YOUR FAMILY. If that means combining your under-used living and dining rooms to make room for a well-utilized craft studio, then GO FOR IT! You'll be so much happier in the long run. Trust me on that!
I sold the dining room table and pendant light fixture on Craigslist (big love to you, CL!), and now it's time to get the room spruced up -- put together. I bought a whole mess of fabric at the Hancock Fabrics on the southwest side of Houston. If that's in your neck of the woods, they have the best clearance section I've ever found! I'm in love with the colors, patterns, and textures of these fabrics, but I was unsure about using them in the craft studio... until today. You see, the adjacent living room (and most of my downstairs, really) is decorated more in the red/tan color scheme with hints of green here and there. My stash had a lot of green, which works, but also a lot of blues. GASP! It's decorating blasphemy to have adjacent rooms decorated in different color schemes, isn't it?! Probably so, but whatevs. I'm aiming to put french doors between the rooms eventually, and I'll add sheers to block the obscene view. Like I said, decorate in a way that makes YOU happy!
So, I'm not going to give away ALL of my plans -- that would make for a very predictable final reveal, wouldn't it? -- but I'll throw you some hints of what I have in store for my craft studio. By the way, the munchkin tells me that "craft studio" sounds silly, and she prefers "sewing room". She hasn't tried saying it with a British accent and about 5 extra u's, though! Swanky, eh? ;) Yes, I know I'm a dork. So, here's your sneak peek. Make of it what you will!
I really liked these red curtains, but I'm ready for a change.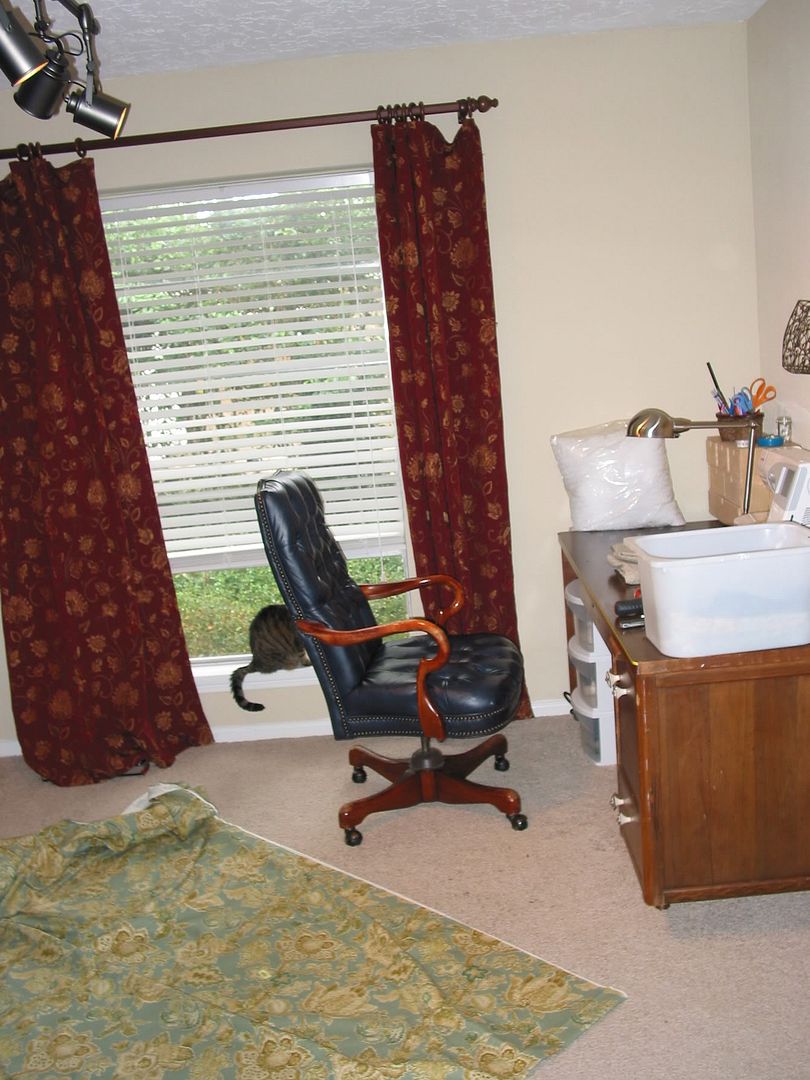 A warning to you, Armoire: nothing in this room is safe!
Did you spy this on the floor? I think the picture above gives a truer representation of its color.
More fabric deliciousness...
Wow, the flash really washed these colors out:
These lovelies had me at, "Honey! The Pottery Barn catalog came in the mail today!" Mr. M hung them for me last week. He's very good to me. :)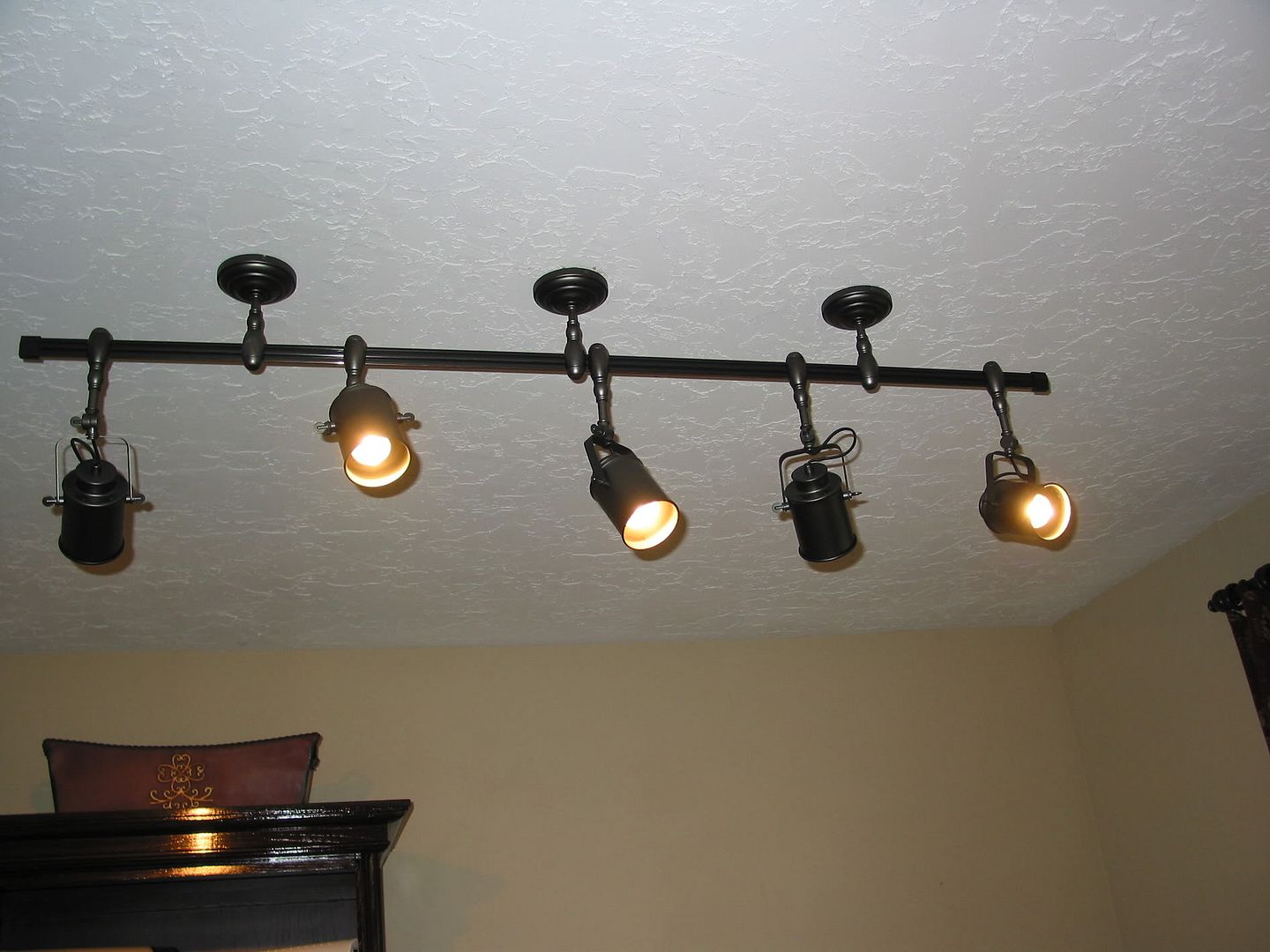 I'll keep you posted as I finish bits and pieces in here!