A co-worker of mine recently welcomed a new little girl to his family. I thought I'd make a little something for her.
Actually, I made a trio of monogrammed burp cloths for her. I absolutely love making these! It gives me a chance to indulge my love of fun ribbon and for matching patterns. Not to mention -- I love making things with my embroidery machine. Best birthday gift I ever got!
So, first, a little tip for those of you who may be brave enough to try this at home. You need to use a top layer on these, just like you would on towels. I use Solvy from Sulky. Any of the Solvy rolls will work; I usually go with what's cheapest/in-stock. And never leave home without your 40% off JoAnn coupon!
Can you see the plastic sheet on top of the cloth?
Here is the difference that plastic sheet can make. If you click to make the picture larger, you can see how the stitches look all wonky on the one on the right. The plastic layer keeps your stitches from sinking down into the loosely-woven cloth diaper. Afterward, you can tear off the excess. Also, it's water-soluble. That's handy for getting all of the little pieces off. If you look at the one on the left, there's a lot of Solvy left over in "Addison" that will be washed out.
Enough tech speak! Here are the three cloths I stitched out:
Here is the first one with the cutest zebra ribbon you ever did see. The blue on it is perfectly in between blue and purple. Gorgeous! I think this look is very sophisticated for a little girl. :) The black and white ribbon didn't photograph so great. It's just flat black grosgrain ribbon with flat white lines forming diamonds. It's not sparkly or anything.
And here is the second. I came across the little piggy ribbon at Michael's and fell in love! If you're looking for whimsical ribbon, Michael's definitely has the advantage over Hobby Lobby or JoAnn's.
Memo to self: quit taking pics under your desk lamp, 'cuz flash is your friend! AND do something about the moire pattern before you upload your pics...
Finally, we have the "A is for Addison" that I used in my top layer demonstration (because I messed up on the first one intentionally to teach you guys a lesson. Yeah.). The little girl's mom and dad are both rabid University of Alabama fans, so making a UA-themed burp cloth was a given for me. I lucked out and found the "A" online for purchase. It would've taken me an hour to digitize the image if I hadn't. (digitize = embroidery speak for turning an image - a jpg or gif or bmp or something - into a file that your machine understands and can stitch out for you). I also had to search 3 stores before I found the houndstooth ribbon. I learned that houndstooth is a UA thing because a legendary former coach always wore a houndstooth fedora.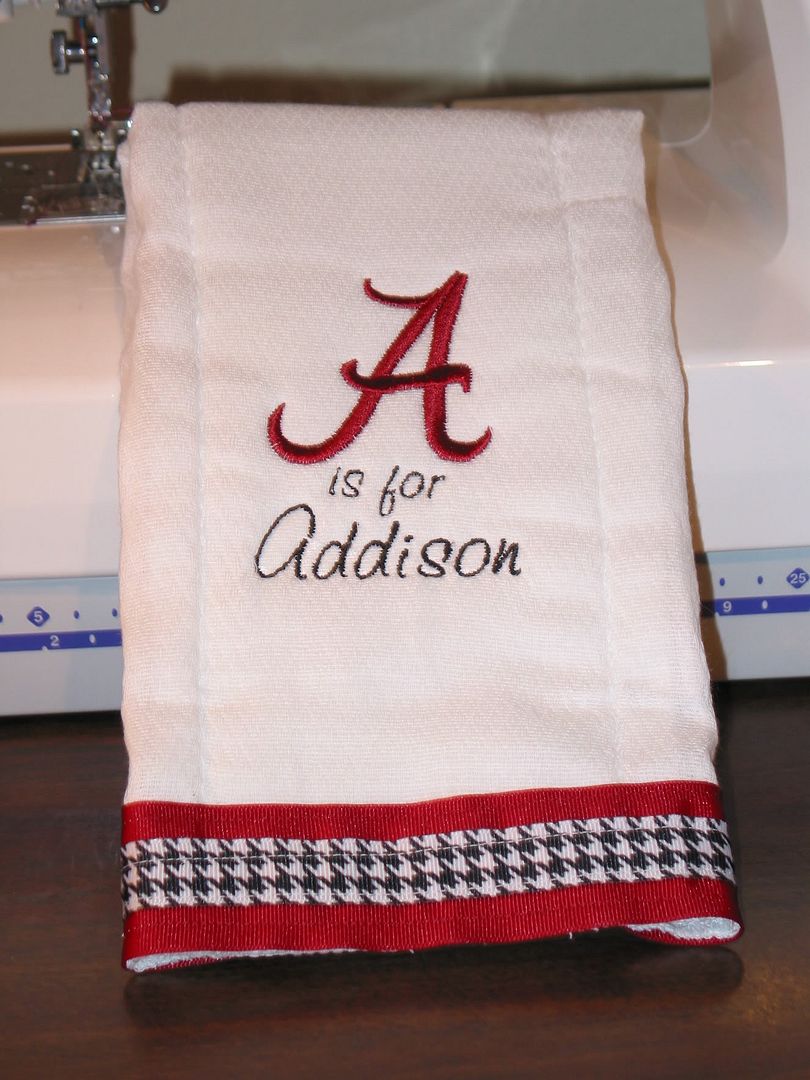 So, there they are. Here they are all packaged up and ready to go. If you spend a lot of time putting together a great gift, don't shortchange your effort by not packaging it well!
Now go make some babies so I can make some more of these, will ya? ;)